Your print operations have a significant impact on your business. In most cases, printing could be the third biggest expense, behind payroll and rent.
This is why if left unmaintained, you could be wasting alot of time and money on inefficient print devices, systems and processes. Your printers and multifunction devices (MFDs) could be weighing your business down – with unnecessary maintenance costs, additional consumable expenses, downtime, and even security vulnerabilities.
This is where managed print services (MPS) can help. With the right print provider, MPS can give you the visibility and control needed to properly manage your entire document and print systems.
In this post, we will help you better understand MPS and how your small business could benefit from these services.
So, what is managed print services?
A managed print service (MPS) is offered by an external provider and takes a holistic approach to your document and print operations. It focuses on optimising print devices, improving workflows and processes, and enhancing document security, while reducing environmental impact.
Your MPS provider can help you monitor your end-to-end print operations – maintaining printers, implementing the necessary technology upgrades, and tracking users and usage. They can also conduct a site audit to identify inefficiencies and security vulnerabilities.
With the right provider and a tailored solution, MPS can deliver massive benefits to your small business. Here are some key benefits that a managed print service can provide:
1. Reduce printing costs
One of the main reasons to consider an MPS solution, is that it can significantly reduce your printing costs. A reliable provider will assess your current print environment and highlight areas where you can streamline workflows, minimise waste and reduce ongoing costs. This includes helping you calculate the total cost of ownership (TCO) for your print devices.
To reduce maintenance costs, your MPS provider would evaluate the state and performance of your machines – servicing as needed, upgrading software, and getting rid of outdated or unnecessary devices. This way, you can be assured that your printers and multifunction devices are always performing at optimum levels.
Lastly, an MPS solution can provide you with a single cost-per-page package; removing the hassle of purchasing countless toner replacements for different machines across the business.  This package covers all consumables as well as service and maintenance costs.
2. Save time and effort
An MPS solution can simplify printer management and save your staff a lot of time and effort. For instance, your provider can implement a uniform device driver across all your print devices. This will not only save time and resources for your IT staff, it also simplifies training for all users.
MPS can streamline accounting for all your printing costs. It can provide just one invoice per month containing your print and copy volumes by device and department.
This also means that you only deal with one supplier for all your document and printing needs. This eliminates the need to manage multiple providers for the different machines and devices.
3. Boost productivity
How much time do your staff spend sorting out printer-related issues? We've seen this countless times – people crowding the printer trying to figure out what's wrong or how to make it work  properly. This just leads to a lot frustration and unnecessary downtime.
A managed print service can ensure all your print devices are running properly at all times. They will upgrade old hardware, install the latest software, and provide training for all staff on how to properly use and troubleshoot printing devices.
If your requirements are complicated, your MPS provider can also implement a tailored solution to meet your company's specific printing needs, optimise devices and streamline workflows and processes.
4. Enhance document security
Document security is an ongoing concern – and the fact of the matter is, your connected network printer can expose your business to hackers and other security risks.
A tailored MPS starts with an assessment of your current print operations – identifying any printer or document security risks. A customised solution is then designed and implemented to mitigate those risks and improve overall security.
Your MPS provider can also help develop printer security policies, conduct staff training on security procedures, and implement document security measures such as user authentication, data encryption and intrusion detection.
5. Minimise environmental impact
Sustainability is now an essential part of doing business. Companies are focused not only on increasing profits but also on creating a positive impact on the community and environment.
An MPS solution can significantly reduce your company's carbon footprint. With streamlined workflows and optimised devices, an MPS can eliminate unnecessary printing, thereby reducing paper usage, power consumption, and waste. It can also help you monitor and control printer usage across the organisation.
In conclusion…
Managed print services can deliver numerous benefits to your small business – from reducing printing costs, improving workplace efficiency and productivity, to enhancing document security and minimising environmental impact.
However, before you can realise these benefits, you would need to choose the right MPS provider that can tailor a solution to address you company's specific printing needs.
Want to learn more about managed print services? Download the KYOCERA Tailored MPS Implementation Fact Sheet and see how we can develop a customised solution for your business.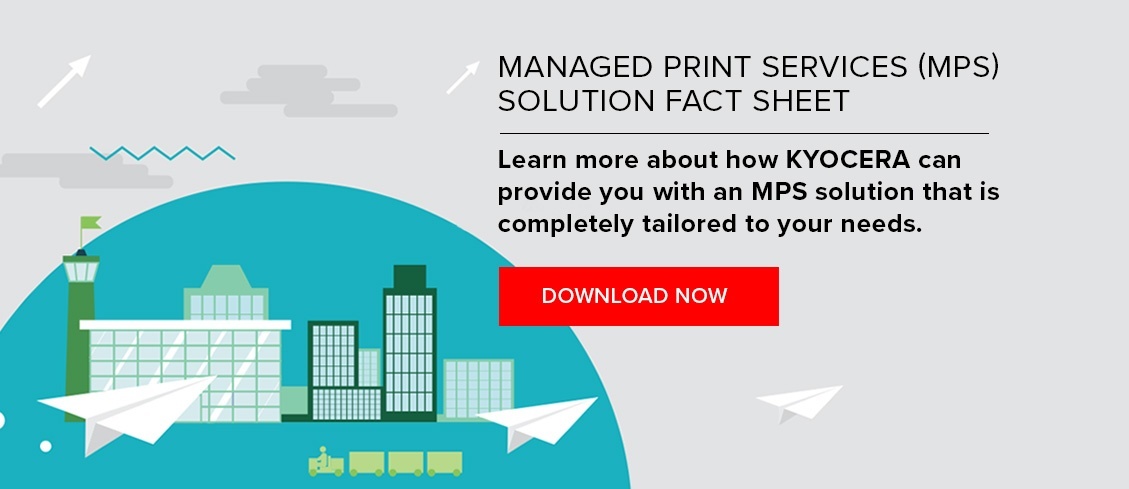 KYOCERA Document Solutions provides document management solutions with ECOSYS technology to reduce the total cost of ownership (TCO) and minimise the impact on the environment, while delivering greater productivity, reliability and uptime.